Electric mobility scooter hire
Intended for people who have difficulties walking long distances, these 4-wheel electric scooters are very stable and their ease of handling makes them suitable for all surfaces (paved street, dirt track, etc.). Furthermore, their small width allows them to pass through the narrowest doors in hotels or other establishments you need to visit.
Public:
Elegant and simple to use, the Standard and HD electric scooters are very comfortable and make it possible to move around town centres to visit the most remarkable sites and shop effortlessly.
Professionals :
These practical scooters make it possible for the disabled to cover long distances during your events.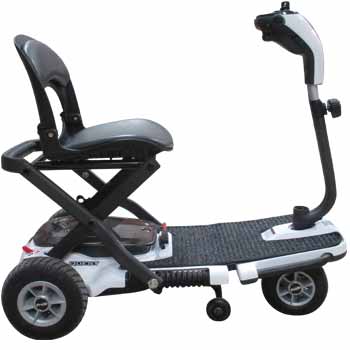 « Ready for transport, lightweight and easily folded, the 4-wheel Quest Folding Scooter is perfect for the active lifestyle. It is super portable and is a great space saver that adjusts to fit perfectly inside any closet, corner, or vehicle trunk, train luggage room… »
For complete access, AXSOL LOCATION has imagined combining your wheelchair with a travel ramp you can use to move on and off pavements or to enter shops that have no access.